If you are interested in learning the basics of electronics and electrical engineering, one of the best way is to try making some electronic circuits and understand the concept behind their workings. There you can find a lot of simple electronics circuits on internet which explains the  concepts so well that while building the circuits, you will understand the fundamentals of the circuit building and electronic components. So here I have compiled a list of basic electronic circuits which  could be a great help to learn electronics.
1. Simple LED Circuit
Glowing an LED will not teach you a lot but it will be great help for you to understand the concepts of voltage and resistors. In addition, building your first circuit and get it working successfully will boost your confidence and motivate to move ahead with relatively more complex circuit.
You can find the DIY details of this circuit here.
2. Water Level Indicator
This is the most basic version of a water level indicator which starts an alarm when water level reaches to threshold. Although there are a lot of better version of this circuit but this one is undoubtedly the most basic one. By just using few resistors, transistors, LEDs and a buzzer, you can build this circuit by yourself and test in small water tank or bucket.
Find here the complete details for this water level controller circuit
 3. 7 Segment Counter Circuit
Now understanding the roles of resistors and transistors, you can move to displays. The simplest of display units is 7-segment displays. In this circuit you will also be using IC 4026 which is quite popular decade counter IC.
You can learn more about this circuit here.
4. Simple Preamplifier Circuit
Now moving on to audio section, you can develop a basic audio preamplifier circuit which will amplify a weak signal. By using transistors, you can do the amplification of audio signals and this concept is explained very well in this small project.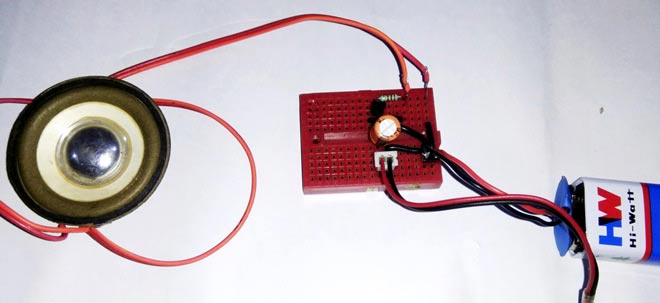 You can find here all the required details to build this preamplifier circuit.
5. Intruder Alarm Circuit
This circuit is a little bit complex one, it uses 555 timer IC and om-amp IC 741. 555 Timer IC and op-amp are important concepts to learn in electronics. You can go through the different articles to learn about the operating modes of 555 timer IC and uses of op-amp.
To build this circuit, you can follow this project tutorial.
6. 555 Timer IC based Electronic Code Lock
Once you have understood the concepts of 555 IC, it will not be difficult to work on different operating modes of the IC. Here the 555 timer is configured in monostable multivibrator mode and used only few buttons, resistors and LEd along with a capacitor.
Click the link to find our the details to build this simple code lock circuit
7. Light Theremin
This is another beautiful project made with 555 timer IC. Along with 555, an LDR, capacitor and speaker helps you to build this circuit.
Check out this page on make magazine to DIY this circuit.
8. Simple Smoke Detector Alarm
Once you build all the above circuits you will get acquainted with basic electronic components and ICs. So now lets use a sensor and make something useful out of it. By using MQ2 smoke sensor, we can build a basic smoke detector alarm which will raise the alarm when it detects the smoke in vicinity.
For more details, check out this smoke detector circuit.
Hope you like this list and will try making few of them!